What we will need to understand about your proposed project
We support various types of projects. Projects can range in duration from one day to many years. Some are small involving just a few people in a single place and others cover large areas and hundreds of people.  Some projects will have short term outcomes while others are a catalyst for lasting and significant change, transforming our community and benefiting future generations.
Our support for projects can include:
Testing or trialing an initiative that will more effectively address a community issue;
Tackling a complex issue or exploring ways of having a deeper impact, such as to reduce vulnerability and disadvantage in the community, or conserving natural habitats;
Aboriginal language and oral history preservation;
Research involving the community to inform policy or practice and improved ways of working;
Sector or organisational development, such as for sector wide tools and resources; and
Projects that help us understand and/or preserve our history or environment.
The coming together of Lotterywest and Healthway created an opportunity to align our grant making strategy, and build synergies to maximise our community support through a shared Community Investment Framework. We'll work with you to identify which priority area your project fits into and to identify relevant outcomes.
Click on the diagram below to find out more about the Community Investment Framework.

The following are considerations that will help you in completing your application.
What will the project help you achieve?
How did the idea for the project come about?
What is the opportunity or issue that you are trying to address?
Who in the community is, or will be, impacted?
What evidence do you have to demonstrate that the community supports your initiative, that it is important for your community and that it is needed? 
Where and when will the project take place?
Who will you collaborate with? Where relevant, collaborative projects are preferred, for example where other organisations, researchers, practitioners, policy makers and consumers are brought together.  
Your proposal should demonstrate it is the best option and is a sound concept or well established pilot and/or feasibility study.
Will there be community-wide or state-wide impact with diverse benefits to large numbers of people, over many years?
What resources are you contributing and what do you need?
What you are requesting from Lotterywest and what is your organisation contributing, (may include money, time, staff resources)?
Include full project budget with indication of what items Lotterywest would be supporting. Costs that Lotterywest can cover are:

Project related equipment or supplies;
Time limited operating costs; including wages, project administration, professional fees and travel; and
Capital costs, including lease costs depending on the length and potential benefit of the project.

Who else is contributing to the project budget, money and in-kind? This can include other government funding and donations of materials.   
Does the project relate to Government funded services? Lotterywest doesn't provide grants for elements purchased by Government or under individualised funding arrangements.
How will you know you have made a difference? (Outcomes)  
How will you demonstrate what the Lotterywest grant helped achieve for the community? Consider using tools like stories, photos and community feedback.
Larger projects will require an evaluation plan, research reports and distribution plan, or community feedback.
Our Grants team can help you plan for measuring the community impact of your event.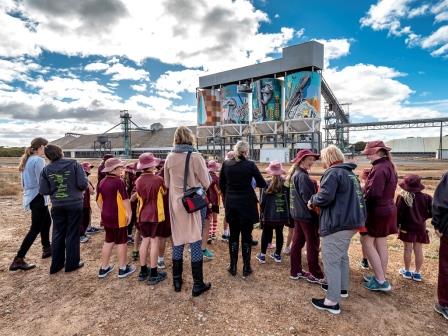 FORM Silos, Newdegate
We don't support
Medical or clinical research
Research that is part of an academic qualification.
What else you need to provide
We may ask for additional information to support your application which can include:
Evidence that your organisation is best placed and how the project relates to your organisation's purpose
A project management plan and the governance approach
For research projects, a research plan including methodology and details of the research team
Evaluation and learning strategies
Evidence of adherence to relevant practices and standards, and
Quotes
For individual items over $3,000 two written quotes are required.
For items under $3,000 a written estimate by the supplier / quote or proof of advertised price.
Low value miscellaneous items can be grouped together to $3,000.
Further information is available in the Lotterywest Portal when you start your application.
Resources
For a comprehensive list of tools and resources to guide you through the application process, visit the Developing your Application page.
Your application
We encourage you to speak with our Grants team about your proposal, request amount and any additional information you may need to prepare, prior to submitting your application. Call us on 133 777 or email grants@lotterywest.wa.gov.au