What we will need to understand about the space, place or building
Our support for community spaces and places can include:
Playgrounds, skate parks, trails or other community facilities that help Western Australians actively engage in community life;
Purchase, construction, or fit-out of a building and/or renovations that will improve the experience for staff and clients;
Work on places and objects of significant heritage value;
Places or spaces which co-locate multiple community services and provide a more effective way for the community to meet and work together;
Memorials marking our culture, heritage and community sentiment; and
Community gardens.
The coming together of Lotterywest and Healthway created an opportunity to align our grant making strategy, and build synergies to maximise our community support through a shared Community Investment Framework. We'll work with you to identify which priority area your space fits into and to identify relevant outcomes.
Click on the diagram below to find out more about the Community Investment Framework.

The following are considerations that will assist with your application.
What will the space help you achieve?
What is the opportunity or issue that the space will help you address?
What evidence do you have to demonstrate that the space is important and the best solution for your community? e.g. a feasibility study and business case.
What other options have been explored (e.g. upgrading the existing facility, renting a space or co-locating) and how is this proposal the best option? Where possible, the facility should be shared to provide maximum impact and use in the community.
Do you have relevant stakeholder support? Proposals for a trail require consultation with Department of Local Government, Sport and Cultural Industries (DLGSCI) previously Department of Sport and Recreation (WA).
How will the space support the community into the future and be adapted as community needs change?
Evidence that the space will be safe, secure and accessible to the broader community.
Who in the community will use the space?
What resources are you contributing and what do you need?
What are you requesting from Lotterywest?
What is your organisation contributing (may include money, time, staff resources)?
Does the project relate to Government funded services? Lotterywest doesn't provide grants for elements purchased by Government or under individualised funding arrangements.
Who have you partnered with? We look for partnership approaches such as other financial contributions or in-kind partners. This can include other government funding, donations of land or construction materials.
Is your organisation able to manage and financially maintain the building?
We don't support:
Ongoing operating or maintenance costs.
How will you know you have made a difference? (Outcomes)  
How will you demonstrate what the Lotterywest grant helped achieve for the community? Consider using tools like stories, photos and community feedback.
What will be the short term and long term outcomes?
Larger projects (e.g. new buildings) will require an evaluation plan, methodology for measuring the impact or change, research reports and/or community feedback.
Our Grants team can help you plan for measuring the community impact of your space.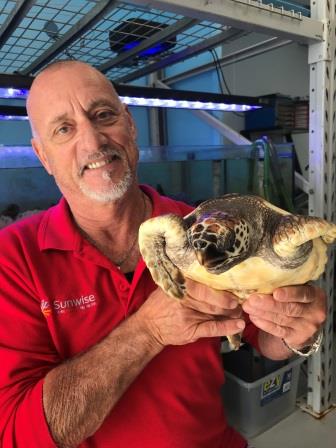 Dolphin Discovery Centre Volunteer Paul with Donny the turtle. Credit: Dolphin Discovery Centre
What else you need to provide
We may ask for additional information to support your application which can include:
Documentation that your organisation is responsible for the space or owns the land or building
Draft plans
Builder's or architects' quotes
Feasibility study
Business case assessing the options considered and substantiating the preferred option
Relevant building approvals and compliance to relevant codes, standards and legislation (including environmental and heritage factors), and
Facility management plan and other related policies.
Quotes
For individual items over $3,000 - two written quotes are required
For items under $3,000 - a written estimate / quote or proof of advertised price.
Low value, miscellaneous items can be grouped together to $3,000 and do not require additional information.
Further information is available in the Lotterywest Portal when you start your application.
Resources
For a comprehensive list of tools and resources to guide you through the application process, visit the Developing your Application page.
Your application
We encourage you to speak with our Grants team about your proposal, request amount and any additional information you may need to prepare, prior to submitting your application. Call us on 133 777 or email grants@lotterywest.wa.gov.au